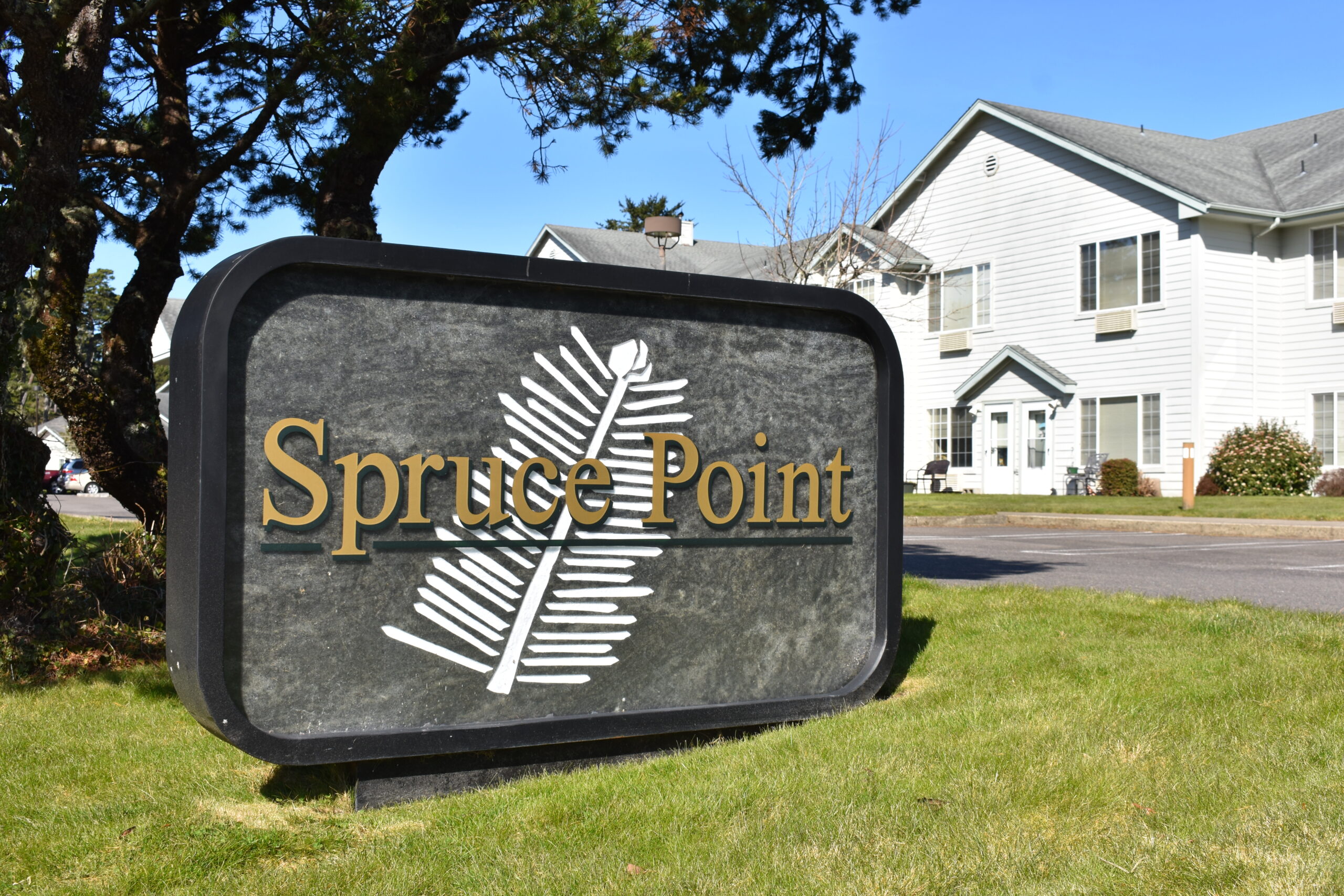 The Spruce Point Management Team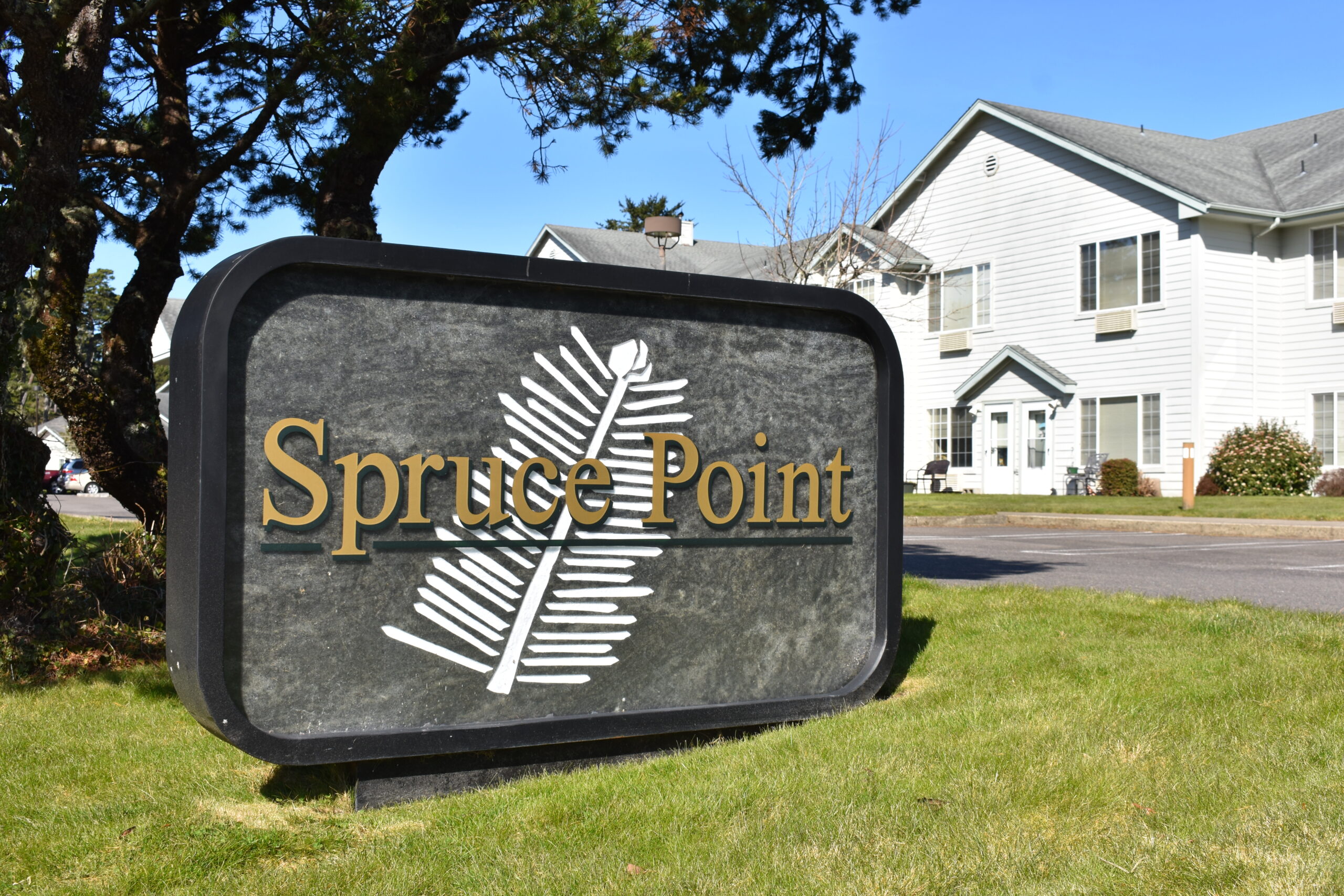 Nikki Saunders
Executive Director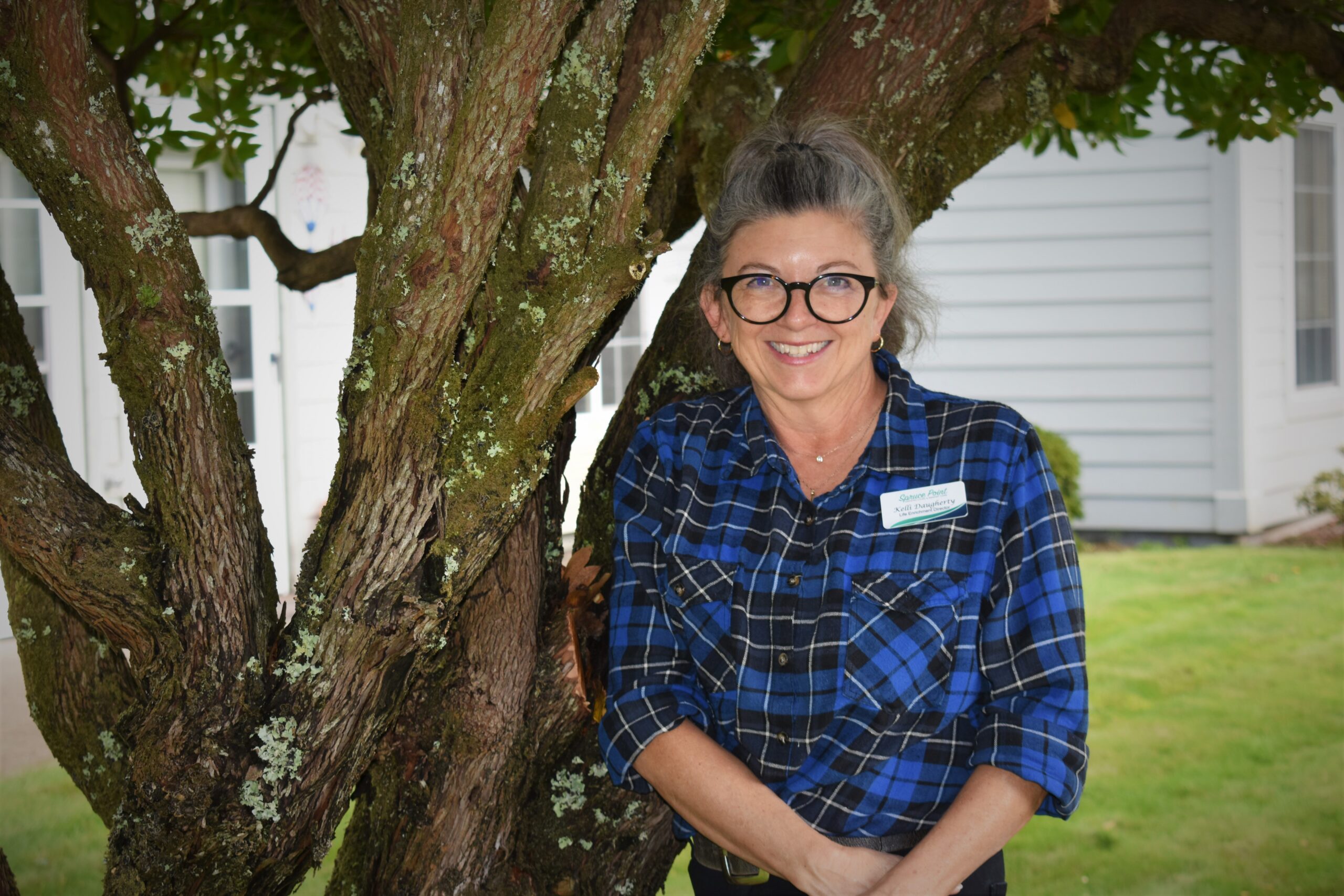 Kellie Daugherty
Memory Care Executive Director
Kellie Daugherty Bio
Kellie joined the Spruce Point Assisted Living team as its Life Enrichment Director in October 2019. In this capacity, she was responsible for developing and coordinating successful, engaging, and entertaining activities and volunteer programs while also assessing each residents' unique interests, managing the department's resources and the program's ongoing needs. Currently, Kellie is the Executive Director for Spruce Point's memory care community overseeing all day-to-day operations, safety, and care for the memory care residents.
Immediately prior to becoming Life Enrichment Director, Kellie worked as a Med-Aide, but she spent many years before that employed by the Disney Co. as a professional figure skater.
In her free time, Kellie enjoys reading, gardening, family time and the Kansas City Chiefs. She is happily married to her husband and has five great children.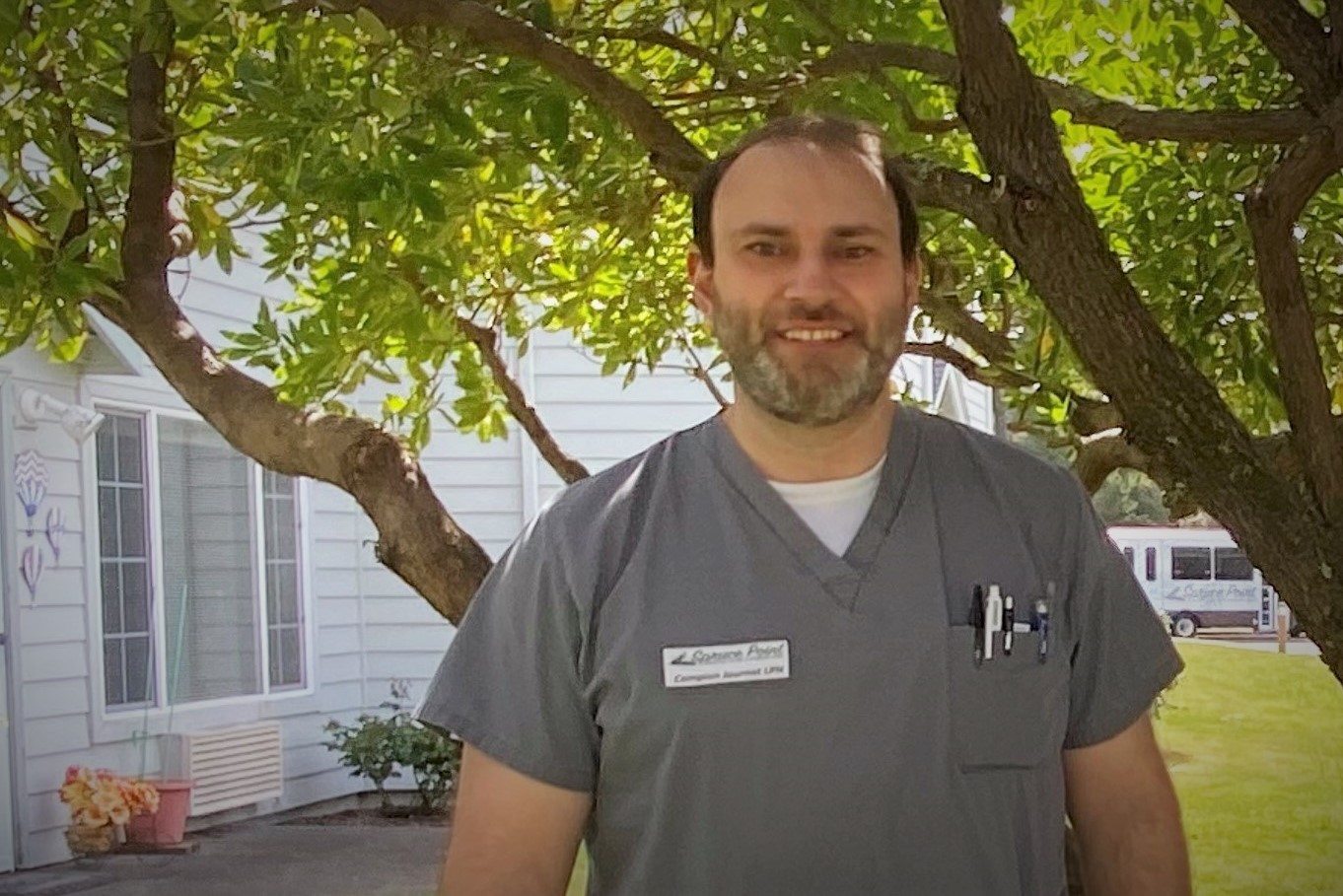 Campion Journot
Registered Nurse
Jeremy Gray
Lead Resident Care Coordinator
Jeremy Gray Bio
Bringing with him more than 15 years of related professional experience, Jeremy joined the management team at Spruce Point Assisted Living as Resident Care Coordinator in July 2020. In this capacity, his primary responsibilities are to provide maximum resident care to each individual residing under the Spruce Point roof. In addition, he oversees the hiring, training, supervision, coaching, and disciplinary actions of his care team members, as well as scheduling shifts and acting as a liaison between resident/family concerns and Spruce Point. Jeremy also manages and is accountable for medications as delegated by the RN on staff, creates and updates resident service plans in accordance with State regulations, and partners with the Executive Director to ensure each resident's unique needs and preferences are met.
Prior to his appointment to Resident Care Coordinator, Jeremy was employed at Spruce Point as a Medication Tech. He also worked as a Medication Tech at another area senior living community.
Jeremy studied Medicine at Lane Community College as well as General Studies at Community College of the Air Force.
When he is not working, Jeremy enjoys reading, hiking, photography, fishing, and boating. His parents reside in Hermiston, Oregon.
​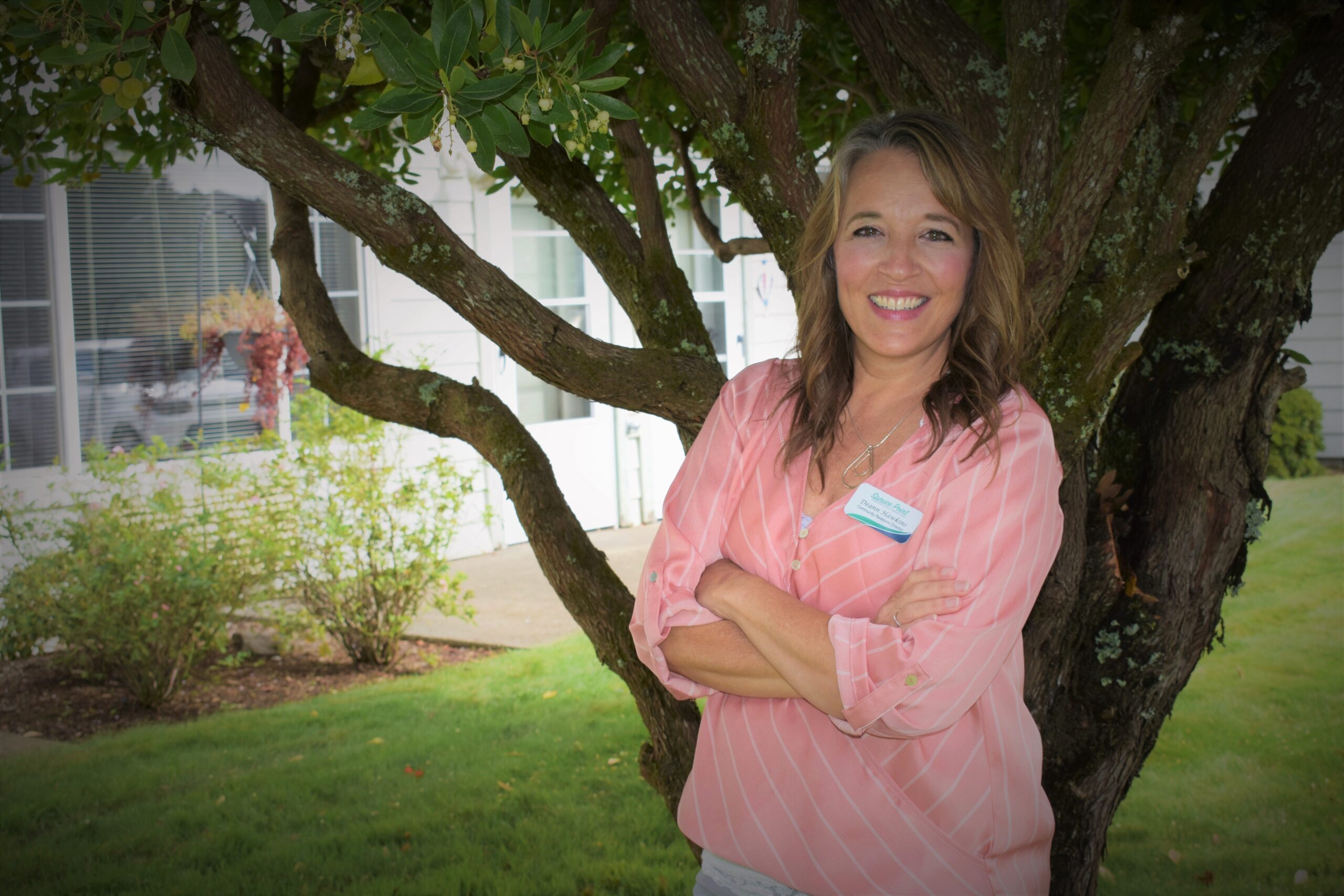 DeAnn Hawkins
Community Relations Director
DeAnn Hawkins Bio
With a strong community-minded and service-oriented approach to all she does, DeAnn joined the leadership team at Spruce Point Assisted Living as its Community Relations Director in September 2020. Bringing with her more than three decades of professional experience, most simply put, DeAnn is the community face and voice of Spruce Point. Responding to inquiries, arranging facility tours, disseminating appropriate and timely information, and ensuring that current and accurate information is always available to the surrounding Florence community are at the top of her job responsibilities. In addition, DeAnn coordinates new resident move-ins, collaborating closely with all necessary parties to ensure a seamless and stress-free transition for all.
Prior to joining the Spruce Point team, DeAnn gained valuable healthcare and individualized care experience and understanding as a seasoned physical therapist for 30 years. In this capacity, she honed her knowledge and skill within home health, sub-acute rehab, long-term care, and dementia care environments. Her transition career between physical therapy and community relations was a two-year stint as a bakery owner whereby she served the local Florence community and learned the intricacies of conducting business and networking in a small, coastal community.
DeAnn received her Bachelor's degree in Allied Health Science and maintains a Master's degree in Physical Therapy. She is also a Certified Dementia Care Specialist.
When she is not serving the residents of Spruce Point, DeAnn can be found exploring new hikes and scenic locations in the greater Pacific Northwest or kayaking the beautiful lakes of Florence. She also enjoys baking, singing, and all cat-related things!
DeAnn resides in Florence with her incredible partner and husband of nearly 30 years, Jason, and their orange tabby cat, Maya. She has three grown children, Laura, Abby, and Owen; the youngest of which is an Oregon Duck and the catalyst to DeAnn's cross-country move to Oregon from Pennsylvania three years ago.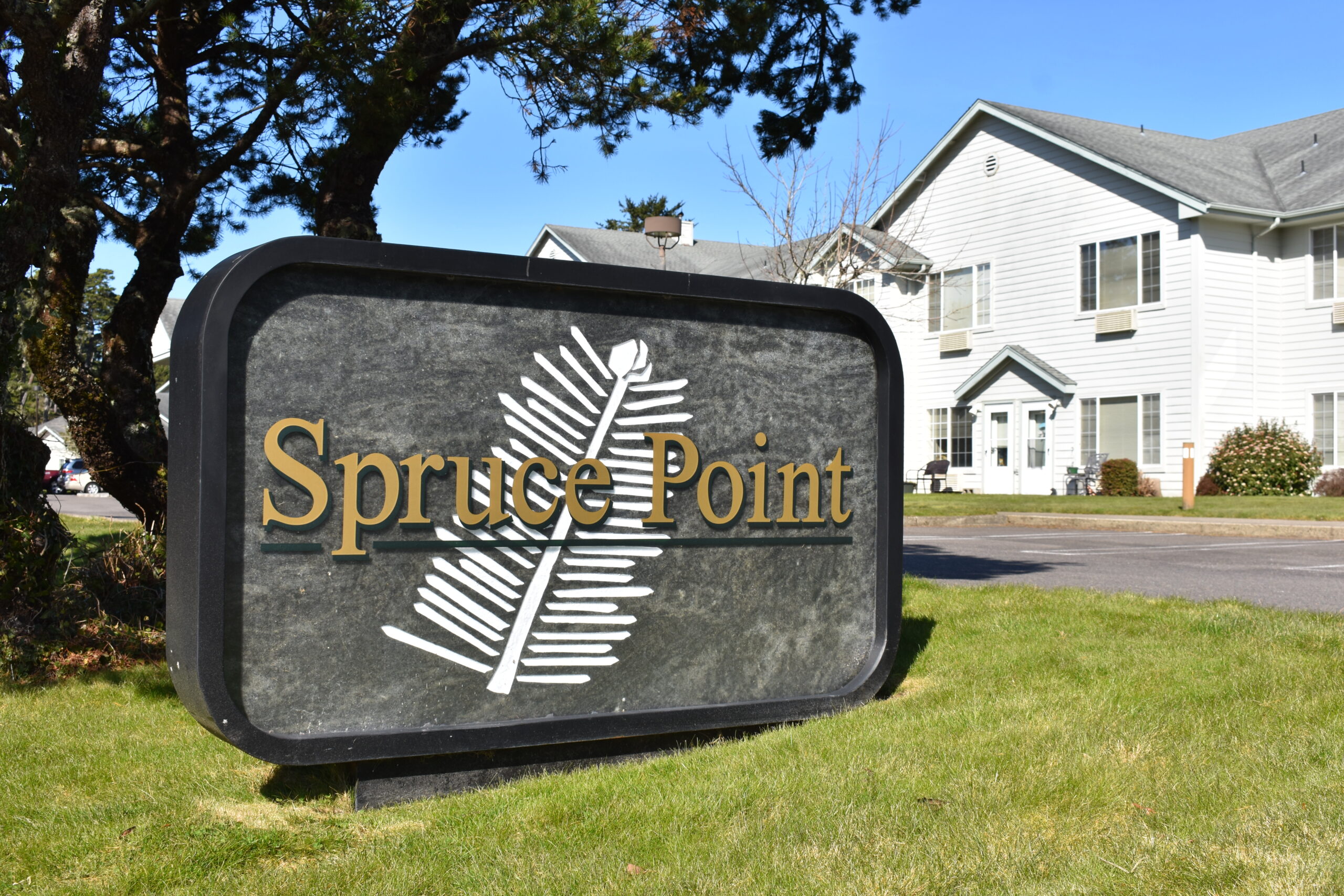 Cassandra Sprague
Memory Care RCC
Cassandra Sprague Bio
Cassandra joined the management team at Spruce Point Assisted Living & Memory Care as its Activities Director. Bringing with her nearly a decade of professional experience in the medical field, Cassandra is now responsible for developing and coordinating a successful activities program through regular and conscientious assessments of each resident's unique interests, planning and managing resources to support the Activities program needs, and creating a monthly activities calendar full of robust enrichment opportunities for each individual residing within the Spruce Point community.
Prior to transitioning into this role, Cassandra was a Med-Aide responsible for the timely and accurate distribution of resident medication at Spruce Point.
In her free-time, you can often find Cassandra traveling, hiking, and spending time with her family. She has two beautiful children, sons Nicholas and baby Jaxton.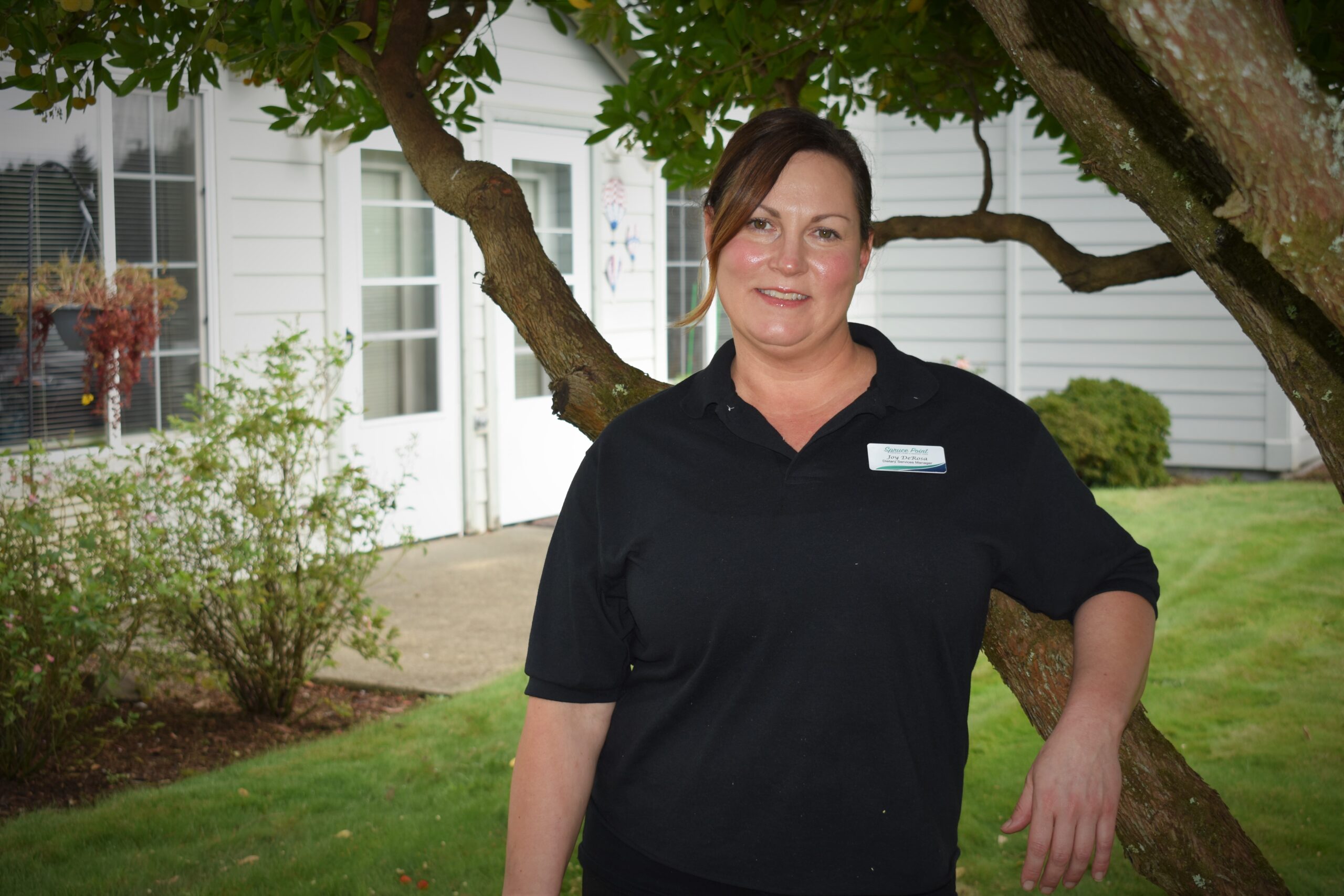 Joy DeRosa
Dietary Services Manager/Chef
Joy DeRosa Bio
Bringing with her 25 years of professional culinary experience, 15 years as a Chef, Joy joined the Spruce Point management team as its Dietary Services Manager in May 2020. In this capacity, she is responsible for planning all menus, ordering and keeping proper inventory of food, supervision of all cooks and dietary aides, developing recipes, as well as overseeing the department budget.
With an innate passion for being creative and making people happy, Joy puts love into every meal she prepares at Spruce Point Assisted Living & Memory Care. Her goal is simple: to provide nourishing meals that meet each resident's unique dietary needs and restrictions while also affording a moment of happiness and fulfillment with every delicious bite!
Prior to joining Spruce Point, Joy was an Executive Chef at an area establishment. She is Serve Safe certified and is also Basic & Advanced Fire Fighting certified. In her free-time, you can often find her enjoying the great outdoors, riding her dirt bike, camping, or hiking.
With heritage originating from Sicily, Italy, it is no wonder Joy has food and beverage running through her veins – it's AMORE!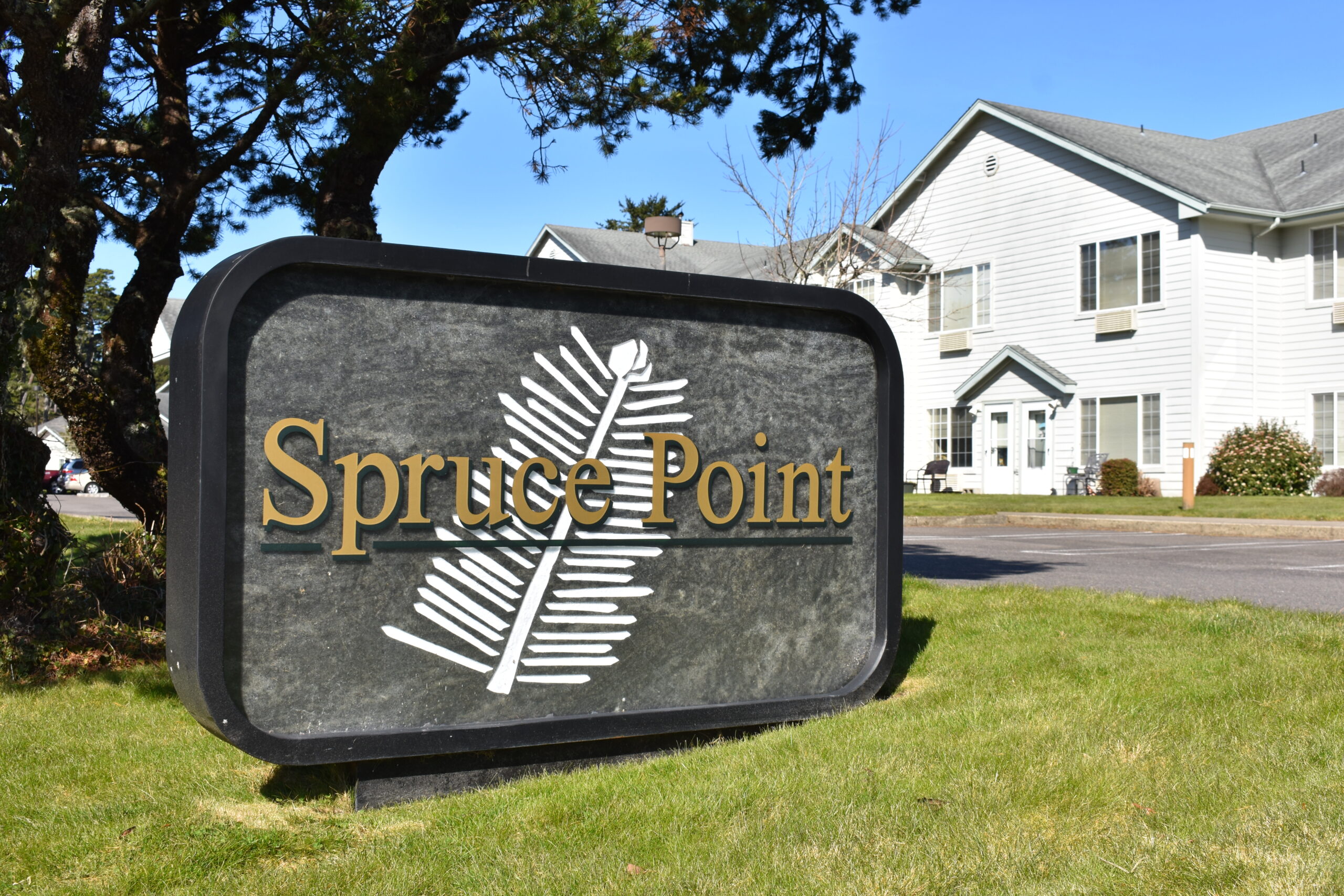 Charlene McCullough
Business Office Manager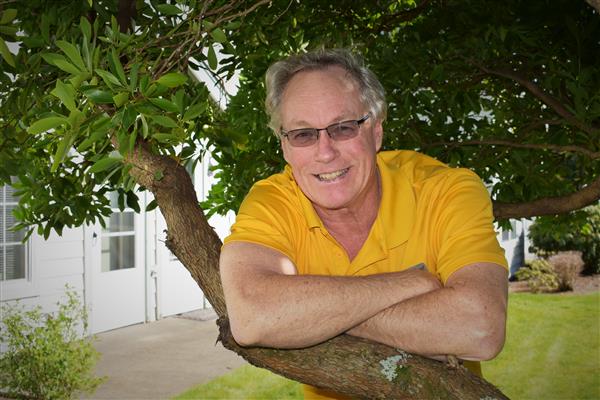 Mark Atkins
Maintenance Projects Director
Mark Atkins Bio
Since joining Spruce Point Assisted Living as its Maintenance Director in July 2018, Mark has proven to be an asset to the management team through diligent monitoring and maintenance of all facility repairs and alterations, keeping in mind regulatory guidelines, deadlines and budgetary restrictions along the way. Included within these duties is maintenance of equipment, utilities, carpet and room cleaning, and supervision of the maintenance assistant.
With three decades of professional experience, over the years, Mark gained valuable experience in a variety of industries including construction, roofing, printing, and restaurants. He has a certificate in electronics.
In his free-time, Mark enjoys playing golf, studying astronomy, and watching comedians. He resides with his wife, Jill, and his son, Kyle.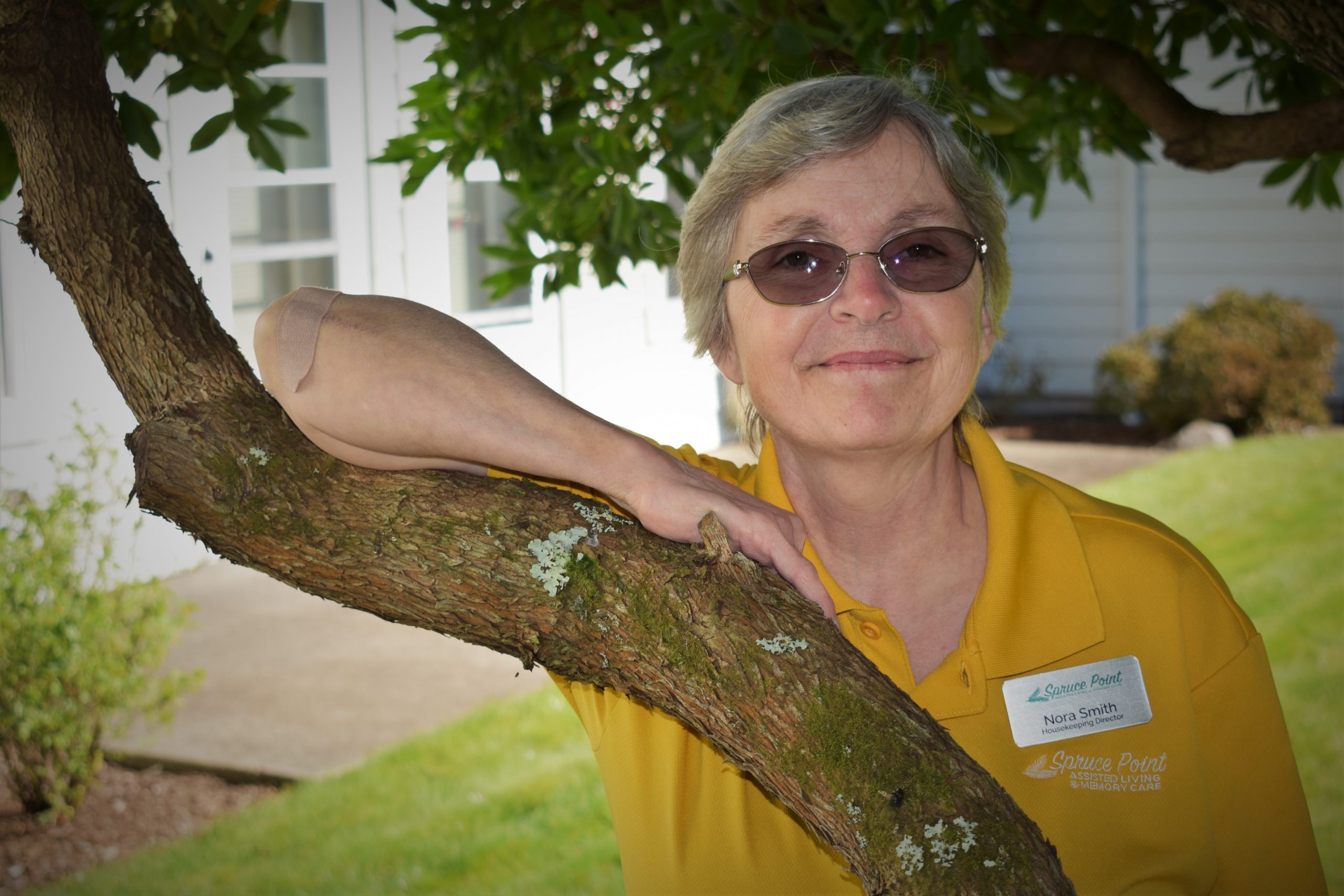 Nora Smith
Housekeeping/Laundry Director
Nora Smith Bio
For more than two decades, Nora has managed the housekeeping and laundry services for Spruce Point Assisted Living as its Housekeeping / Laundry Director. She takes great pride in the management of both departments, making sure the facility floors are always well kept, rooms and public spaces are sanitary and tidy, Central Supply is appropriately stocked, and housekeepers are properly trained. Nora is highly valued by her colleagues and the residents and their families that come through the facility.
When Nora is not at work, you can often find her camping and fishing or spending time with her husband, Bruce, and grandchildren. She has two sons, Jesse and Jason.
Please feel free to reach out with any questions at (541) 997-6111.  We understand this journey can be overwhelming and, at times, challenging. We are happy to assist you along the way.